Información de
Cars 2 2011 película completa
Trailers Cars 2
trailer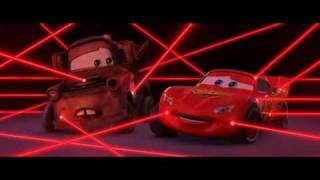 Cars 2 - Trailer en español youtube
Sipnosis
Rayo McQueen y la adorable grúa Mate viajan al extranjero para participar en el primer Campeonato Mundial en el que se decidirá cuál es el coche más rápido del planeta.
La primera escala es Tokio, Japón, donde Mate tendrá que convertirse en un espía secreto al verse envuelto sin saberlo en un caso de espionaje internacional, que le llevará a París y a Londres.
Por si fuera poco, también vivirán una aventura de proporciones épicas al viajar a Porto Corsa, Italia, para disputar el primer Campeonato Mundial.
La pareja tendrá que perderse las especialidades de la Riviera italiana -yates, playas y pasta al pesto- ya que Mate tiene que dar un rodeo en su misión de espionaje, mientras McQueen compite contra los mejores del mundo.
Owen Wilson
Lightning McQueen (voice)

Larry the Cable Guy
Mater (voice)

Michael Caine
Finn McMissile (voice)

Emily Mortimer
Holley Shiftwell (voice)

John Turturro
Francesco Bernoulli (voice)

Eddie Izzard
Sir Miles Axlerod (voice)

Thomas Kretschmann
Professor Z (voice)

Joe Mantegna
Grem (voice)

Peter Jacobson
Acer (voice)

Bruce Campbell
Rod "Torque" Redline (voice)

Tony Shalhoub
Luigi (voice)

Darrell Waltrip
Darrell Cartrip (voice)

Guido Quaroni
Guido (voice)

Brent Musburger
Brent Mustangburger (voice)

Jason Isaacs
Siddeley / Leland Turbo (voice)

David Hobbs
David Hobbscap (voice)

Stanley Townsend
Victor Hugo / Vladimir Trunkov / Ivan the Tow Truck (voice)

Lloyd Sherr
Fillmore / Combat Ship (voice)

Paul Dooley
Sarge (voice)

Michel Michelis
Tomber (voice)

Sig Hansen
Crabby (voice)

Franco Nero
Uncle Topolino (voice)

Vanessa Redgrave
The Queen / Mama Topolino (voice)

Bonnie Hunt
Sally Carrera (voice)

Cheech Marin
Ramone (voice)

Jenifer Lewis
Flo (voice)

Michael Wallis
Sheriff (voice)

Katherine Helmond
Lizzie (voice)

John Ratzenberger
Mack (voice)

Patrick Walker
Mel Dorado (voice)

Lewis Hamilton
Lewis Hamilton (voice)

Velibor Topic
Alexander Hugo (voice)

John Mainieri
J. Curby Gremlin (voice)

Brad Lewis
Tubbs Pacer (voice)

Edie McClurg
Minny (voice)

Teresa Gallagher
Mater's Computer (voice)

Jeff Gordon
Jeff Gorvette (voice)

John Lasseter
Additional Voices (voice)

Fernando Alonso
Fernando Alonso (voice)

Jacques Villeneuve
Jacques Villeneuve (voice)

Sebastian Vettel
Sebastian Vettel (voice)
‹
›
Michael Giacchino Original Music Composer

John Lasseter
Original Story

Brad Lewis
Original Story

Dan Fogelman
Original Story

Jeremy Lasky
Director of Photography

Derek Thompson
Storyboard Artist

Josh Cooley
Storyboard Artist

Josh Cooley
Additional Script Supervisor

Katherine Ringgold
Second Film Editor

Andrea Datzman
Orchestrator

Andrea Datzman
Music Coordinator
‹
›
¿Dónde ver la película Cars 2?
¿Quieres comprar productos de la película Cars 2?
No hay productos para "Cars 2".