Información de
Harry Potter and the Philosopher's Stone 2001 película completa
PG
152min
2001
Harry Potter and the Philosopher's Stone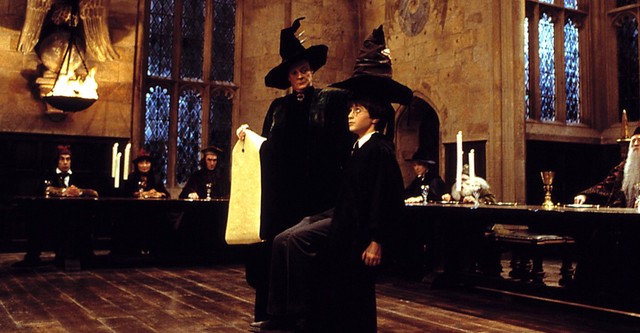 Sipnosis
Harry Potter has lived under the stairs at his aunt and uncle's house his whole life.
But on his 11th birthday, he learns he's a powerful wizard -- with a place waiting for him at the Hogwarts School of Witchcraft and Wizardry.
As he learns to harness his newfound powers with the help of the school's kindly headmaster, Harry uncovers the truth about his parents' deaths -- and about the villain who's to blame.
Daniel Radcliffe
Harry Potter

Emma Watson
Hermione Granger

Richard Harris
Albus Dumbledore

Robbie Coltrane
Rubeus Hagrid

Alan Rickman
Severus Snape

Maggie Smith
Minerva McGonagall

Richard Griffiths
Vernon Dursley

Ian Hart
Professor Quirrell/Voldemort

Fiona Shaw
Petunia Dursley

John Hurt
Garrick Ollivander

David Bradley
Argus Filch

Matthew Lewis
Neville Longbottom

Sean Biggerstaff
Oliver Wood

Warwick Davis
Goblin Bank Teller / Filius Flitwick

Harry Melling
Dudley Dursley

James Phelps
Fred Weasley

Oliver Phelps
George Weasley

John Cleese
Nearly Headless Nick

Chris Rankin
Percy Weasley

Devon Murray
Seamus Finnigan

Jamie Waylett
Vincent Crabbe

Josh Herdman
Gregory Goyle

Zoë Wanamaker
Rolanda Hooch

Julie Walters
Molly Weasley

Bonnie Wright
Ginny Weasley

Luke Youngblood
Lee Jordan

Adrian Rawlins
James Potter

Geraldine Somerville
Lily Potter

Elizabeth Spriggs
Fat Lady

Richard Bremmer
He Who Must Not Be Named

Terence Bayler
The Bloody Baron

Harry Taylor
Station Guard

Jean Southern
Dimpled Woman on Train

Leslie Phillips
The Sorting Hat

Simon Fisher-Becker
Fat Friar

Ray Fearon
Firenze (voice)

Eleanor Columbus
Susan Bones

Ben Borowiecki
Diagon Alley Boy

Danielle Tabor
Angelina Johnson

Leilah Sutherland
Alicia Spinnet

Will Theakston
Marcus Flint

Scot Fearn
Terrence Higgs

Saunders Triplets
Baby Harry Potter

Jimmy Vee
Goblin (uncredited)

Kieri Kennedy
Child at Zoo (uncredited)
‹
›
John Williams Original Music Composer

John Seale
Director of Photography

Richard Francis-Bruce
Editor

Stuart Craig
Production Design

Judianna Makovsky
Costume Design

Chris Columbus
Executive Producer

Mark Radcliffe
Executive Producer

Malcolm Roberts
Construction Coordinator

Gary Arthurs
Utility Stunts

Simon Rhodes
Scoring Mixer

Mark Coulier
Prosthetic Makeup Artist

David R. Ellis
Second Unit Director
‹
›
¿Dónde ver la película Harry Potter and the Philosopher's Stone?
¿Quieres comprar productos de la película Harry Potter and the Philosopher's Stone?