Información de
Pixels 2015 película completa
Pixels , película que ya puedes Alquilar o comprar o ver online a través de Amazon Instant Video, fandangonow, Google Play Movies, Itunes, Microsoft Store, Netflix, Playstation, Rakuten tv, Vudu, youtube . Con una duración de 105 minutos.
Trailers Pixels
trailer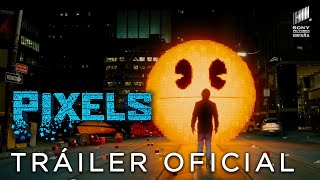 PIXELS. Tráiler Oficial HD en español. Ya en cines. youtube
trailer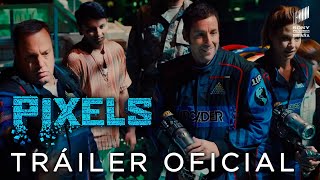 PIXELS. Tráiler Final Oficial HD en español. Ya en cines. youtube
trailer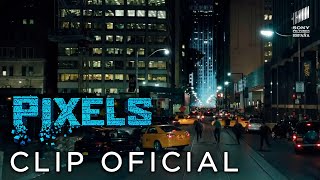 PIXELS. Quedan 2 días. Lanzamiento Tráiler. En cines 24 de Julio. youtube
trailer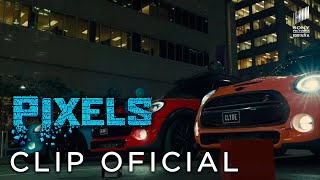 PIXELS. Mañana lanzamiento tráiler. En cines 24 de Julio youtube
Sipnosis
Pixels cuenta como unos extraterrestres malinterpretan las imágenes de las máquinas recreativas como una declaración de
guerra
y deciden atacar la tierra, empleando dichos juegos como modelos para el asalto.
El presidente de EEUU, Will Cooper (Kevin James), recurre entonces a su gran amigo de la infancia y campeón de las maquinitas de los años 80, Sam Brenner (Adam Sandler), quien actualmente trabaja como instalador de sistemas de home cinema, para encabezar un equipo de expertos jugadores de su época (Dinklage y Gad) cuya misión será derrotar a los extraterrestres y salvar al planeta.
Monaghan interpreta al experto en armas del equipo.
Michelle Monaghan
Violet Van Patten

Peter Dinklage
Eddie Plant

Josh Gad
Ludlow Lamonsoff

Kevin James
President Will Cooper

Sean Bean
Corporal Hill (SAS Officer)

Jane Krakowski
Carolyn Cooper

Dan Aykroyd
1982 Championship MC

Jackie Sandler
President's Assistant Jennifer

Dan Patrick
White House Reporter #1

Robert Smigel
White House Reporter #2

Anthony Ippolito
13-year-old Brenner

Affion Crockett
Sergeant Dylan Cohan

Lainie Kazan
Mickey Lamonsoff

Denis Akiyama
Professor Iwatani

Tom McCarthy
Michael the Robot

Tim Herlihy
Defense Secretary

Jared Sandler
White House Junior Aide Jared

William S. Taylor
Navy Secretary

Rose Rollins
White House Press Secretary

Tucker Smallwood
CIA Chief

Serena Williams
Serena Willams

Martha Stewart
Martha Stewart

Allen Covert
Abusive Citizen

Nick Swardson
Pac-Man Victim

Jack Fulton
Boy on London Street

Sadie Sandler
Lemonadie Sadie

Bridget Graham
Cyber Chick #1

Jocelyn Hudon
Cyber Chick #2

Annika Pergament
New Reporter

Bill Lake
NY Police Commissioner

Sunny Sandler
Sweet Scout Girl

Chris Titone
Soccer Player

Jonathan Loughran
White House Gate Guard

Toru Iwatani
Electric Dream Factory Repairman

Margaret Killingbeck
Old Woman in London Apartment

James Preston Rogers
Seal

Mark Sparks
Fighter Pilot

Steve Wiebe
DARPA Scientist

Sara Haines
TV News Anchor

Michael Boisvert
Secret Service Man

Matt Frewer
Max Headroom (voice)

Billy West
Additional Character Voice (voice)

Joshua Holmes
Arcader (uncredited)
‹
›
Timothy Dowling
Screenplay

Barry Bernardi
Executive Producer

Jack Giarraputo
Executive Producer

Seth Gordon
Executive Producer

Tim Herlihy
Executive Producer

Amir Mokri
Director of Photography
‹
›
¿Dónde ver la película Pixels?
¿Quieres comprar productos de la película Pixels?
No hay productos para "Pixels".