Información de
Se7en 1995 película completa
Se7en , película que ya puedes Alquilar o comprar o ver online a través de Amazon Instant Video, chili, false, fandangonow, Google Play Movies, Itunes, Microsoft Store, Netflix, Playstation, Rakuten tv, Vudu, youtube . Con una duración de 127 minutos.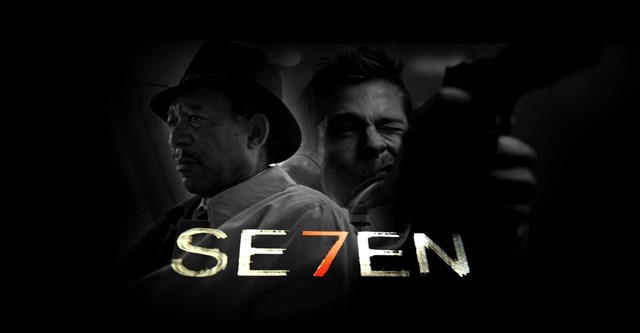 Sipnosis
Two homicide detectives are on a desperate hunt for a serial killer whose crimes are based on the "seven deadly sins" in this dark and haunting film that takes viewers from the tortured remains of one victim to the next.
The seasoned Det.
Sommerset researches each sin in an effort to get inside the killer's mind, while his novice partner, Mills, scoffs at his efforts to unravel the case.
Brad Pitt
Detective David Mills

Morgan Freeman
Detective Lt. William Somerset

Gwyneth Paltrow
Tracy Mills

John C. McGinley
California

R. Lee Ermey
Police Captain

Richard Roundtree
Dist. Atty. Martin Talbot

Richard Schiff
Mark Swarr

Mark Boone Junior
Greasy F.B.I. Man

John Cassini
Officer Davis

Reg E. Cathey
Dr. Santiago

Peter Crombie
Dr. O'Neill

Hawthorne James
George, Library Night Guard

Michael Massee
Man in Booth at Massage Parlor

Leland Orser
Crazed Man in Massage Parlor

Richard Portnow
Dr. Beardsley

Daniel Zacapa
Detective Taylor

Alfonso Freeman
Fingerprint Technician

Harris Savides
911 Operator

Andrew Kevin Walker
Dead Man

Richmond Arquette
Delivery Man

Pamala Tyson
Thin Vagrant

Emily Wagner
Detective Sara

Shannon Wilcox
Woman Cop Behind Desk

George Christy
Workman at Door of Somerset's Office

Dominique Jennings
TV News Reporter

Harrison White
Cop on SWAT Team

Bob Stephenson
Cop on SWAT Team

Michael Reid MacKay
Victor - Sloth Victim

Lennie Loftin
Policeman Who Takes Statement from Vagrant

Evan Mirand
Paramedic at Massage Parlor

Rachel Flanagan
Additional 911 Operator

Heidi Schanz
Pride Victim

Charles A. Tamburro
SWAT Helicopter Pilot

Charles S. Dutton
Cop (uncredited)
‹
›
Andrew Kevin Walker
Screenplay

Howard Shore Original Music Composer

Darius Khondji
Director of Photography

Richard Francis-Bruce
Editor

Michael Kaplan
Costume Design

Ren Klyce
Sound Effects Editor

Chuck Picerni Jr.
Stunt Coordinator

Kim Coleman
Casting Assistant

Harris Savides
Additional Photography
‹
›
¿Dónde ver la película Se7en?
¿Quieres comprar productos de la película Se7en?
Superventas nº. 1
Superventas nº. 1
Superventas nº. 1
Superventas nº. 2
Superventas nº. 2
Superventas nº. 2