Instant Family (2019)
Released
I Dislike This
Un-Dislike
Dislike
12A+
118 min
2019
en
362169
750079-491418
id362169
Information of the

Movie

Instant Family 2019
by Sean Anders
Instant Family, Movie full premiere on 2019 directed by Sean Anders and interpreted by Mark Wahlberg, Rose Byrne, Isabela Moner, Margo Martindale, Julie Hagerty, Tig Notaro, ... and produced by Closest to the Hole Productions, Paramount, Leverage Entertainment, ...
Sipnosis
The Movie Instant Family goes from what When Pete and Ellie decide to start a family, they stumble into the world of foster care adoption.
They hope to take in one small child but when they meet three siblings, including a rebellious 15 year old girl, they find themselves speeding from zero to three kids overnight.
Where can we see, buy or rent the Movie Instant Family from the director Sean Anders,?
Instant Family , Movie from the director Sean Anders, con una recaudación de 14,700,000 of $ with a duration of 117 minutes you can comprar in Apple iTunes .
production
Closest to the Hole Productions
US
Paramount
US
Trailers familia al instante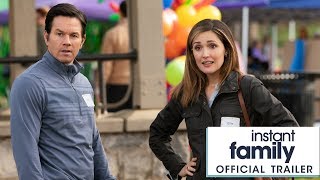 Instant Family (2018) - Official Trailer - Paramount Pictures youtube