Summer '03 (2018)
Released
I Dislike This
Un-Dislike
Dislike
15+
102 min
2018
en
371397
32018-501630
id371397
Information of the

Movie

Summer '03 2018
by Becca Gleason
Summer '03, Movie full premiere on 2018 directed by Becca Gleason and interpreted by Joey King, Jack Kilmer, Andrea Savage, Paul Scheer, Erin Darke, Stephen Ruffin, ... and produced by Big Cat Productions, Summer 03 Film, ...
Sipnosis
The Movie Summer '03 goes from what A 16-year-old girl and her extended family are left reeling after her calculating grandmother unveils an array of secrets on her deathbed.
Where can we see, buy or rent the Movie Summer '03 from the director Becca Gleason,?
Summer '03 , Movie from the director Becca Gleason, with a duration of 95 minutes you can comprar in YouTube .
Trailers summer 03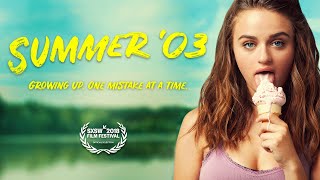 SUMMER '03 - Official Trailer youtube