The Banana Splits Movie (2019)
Released
I Dislike This
Un-Dislike
Dislike
90 min
2019
in
816458
tt9831136-608654
id816458
Information of the

Movie
The Banana Splits Movie 2019
de Danishka Esterhazy
The Banana Splits Movie, Película completa de estreno en 2019 directed by Danishka Esterhazy and interpreted by Dani Kind, Finlay Wojtak-Hissong, Romeo Carere, Steve Lund, Maria Nash, Naledi Majola, ... and produced by Blue Ribbon Content, ...
Sipnosis
La Película The Banana Splits Movie goes from what A boy named Harley and his family attend a taping of The Banana Splits TV show, which is supposed to be a fun-filled birthday for young Harley and business as usual for Rebecca, the producer of the series.
But things take an unexpected turn - and the body count quickly rises.
Can Harley, his mom and their new pals safely escape?
¿Dónde podemos ver, comprar o alquilar la Película The Banana Splits Movie from Danishka Esterhazy ?
The Banana Splits Movie , Movie of Danishka Esterhazy, with a duration of 90 minutes, you can in Chili .
production
Blue Ribbon Content
US
Trailers the banana splits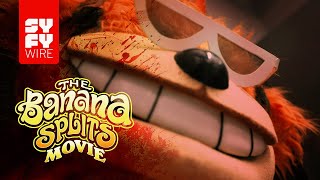 watch trailer The Banana Splits Movie - Official Trailer | SYFY WIRE youtube