I Dislike This
Un-Dislike
Dislike
U+
98 min
2008
in
25151
tt0910970-10681
id25151
Information of the

Movie
WALL·E 2008
de Andrew Stanton
WALL·E, Película completa de estreno en 2008 directed by Andrew Stanton and interpreted by Ben Burtt, Elissa Knight, Jeff Garlin, Fred Willard, John Ratzenberger, Kathy Najimy, ... and produced by Pixar, Walt Disney Pictures, ...
Sipnosis
La Película WALL·E goes from what WALL·E is the last robot left on an Earth that has been overrun with garbage and all humans have fled to outer space.
For 700 years he has continued to try and clean up the mess, but has developed some rather interesting human-like qualities.
When a ship arrives with a sleek new type of robot, WALL·E thinks he's finally found a friend and stows away on the ship when it leaves.
¿Dónde podemos ver, comprar o alquilar la Película WALL·E from Andrew Stanton ?
WALL·E , Movie of Andrew Stanton, with a duration of 98 minutes, you can in YouTube .
production
Pixar
US
Walt Disney Pictures
US
Trailers walle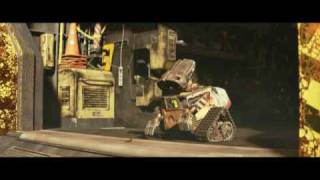 watch trailer WALL-E HD 1080p Trailer youtube