Information of
Bee Movie 2007 full movie
Bee Movie , movie that you can already Rent o buy o Streaming through Amazon Instant Video, Chili, Claro Video, Filmin plus, , , Netflix, Play Station, Rakuten tv, Youtube . With a duration of 91 minutos.
Trailers Bee Movie
trailer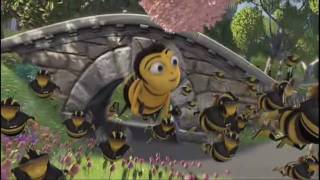 Bee Movie (Trailer 2007) Youtube
Synopsis
Barry B.
Benson, a bee who has just graduated from college, is disillusioned at his lone career choice: making honey.
On a special trip outside the hive, Barry's life is saved by Vanessa, a florist in New York City.
As their relationship blossoms, he discovers humans actually eat honey, and subsequently decides to sue us.
Jerry Seinfeld
Barry B. Benson (voice)

Renée Zellweger
Vanessa Bloome (voice)

Jim Cummings
Narrator / Graduation Announcer (voice)

Matthew Broderick
Adam Flayman (voice)

Patrick Warburton
Ken (voice)

John Goodman
Layton T. Montgomery (voice)

Chris Rock
Mooseblood (voice)

Kathy Bates
Janet Benson (voice)

Barry Levinson
Martin Benson (voice)

Megan Mullally
Trudy (voice)

Rip Torn
Lou Lo Duca (voice)

Oprah Winfrey
Judge Bumbleton (voice)

Michael Richards
Bud Ditchwater (voice)

Larry King
Bee Larry King (voice)

Larry Miller
Buzzwell (voice)

John DiMaggio
Janitor / Bailiff (voice)

Tress MacNeille
Jeanette Chung / Mother / Cow (voice)

Simon J. Smith
Truck Driver / Chet (voice)

Ray Liotta
Himself (voice)

Robert Jayne
Bee (voice) (uncredited)

Carl Kasell
Himself (voice) (uncredited)
‹
›
Jerry Seinfeld
Screenplay

Spike Feresten
Screenplay

Rupert Gregson-Williams Music
‹
›
Where to see the movie Bee Movie?
Do you want to buy movie products Bee Movie?
No products for "Bee Movie" found.