Movie information Quantum of Solace de Marc Forster
PG-13+
1h.46 min.
2008
en
10764
id1890012
Quantum of Solace,Full movie released in 2008 directed byMarc Forster and interpreted byDaniel Craig, Olga Kurylenko, Mathieu Amalric, Judi Dench, Giancarlo Giannini, Jeffrey Wright, ... and produced byB22...
EXECUTIVE_PRODUCER Callum McDougall
PRODUCER Michael G. Wilson
PRODUCTION_DESIGN Dennis Gassner
Gender: Array
Synopsis
The movie Quantum of Solace about what Quantum of Solace continues the adventures of James Bond after Casino Royale.
Betrayed by Vesper, the woman he loved, 007 fights the urge to make his latest mission personal.
Pursuing his determination to uncover the truth, Bond and M interrogate Mr.
White, who reveals that the organization that blackmailed Vesper is far more complex and dangerous than anyone had imagined.
production
Eon Productions
Metro-Goldwyn-Mayer
Columbia Pictures
Where can i see the movie Quantum of Solace de Marc Forster ?
Average rating:

6.3

, based on

6035

reviews
from USD

3.99

to USD

0
Quantum of Solace , movie of Marc Forster With a budget of200,000,000 $ and with a collection of200,000,000 $ and with a duration of1h.46 min. what can you rent en Spectrum On Demand .
Images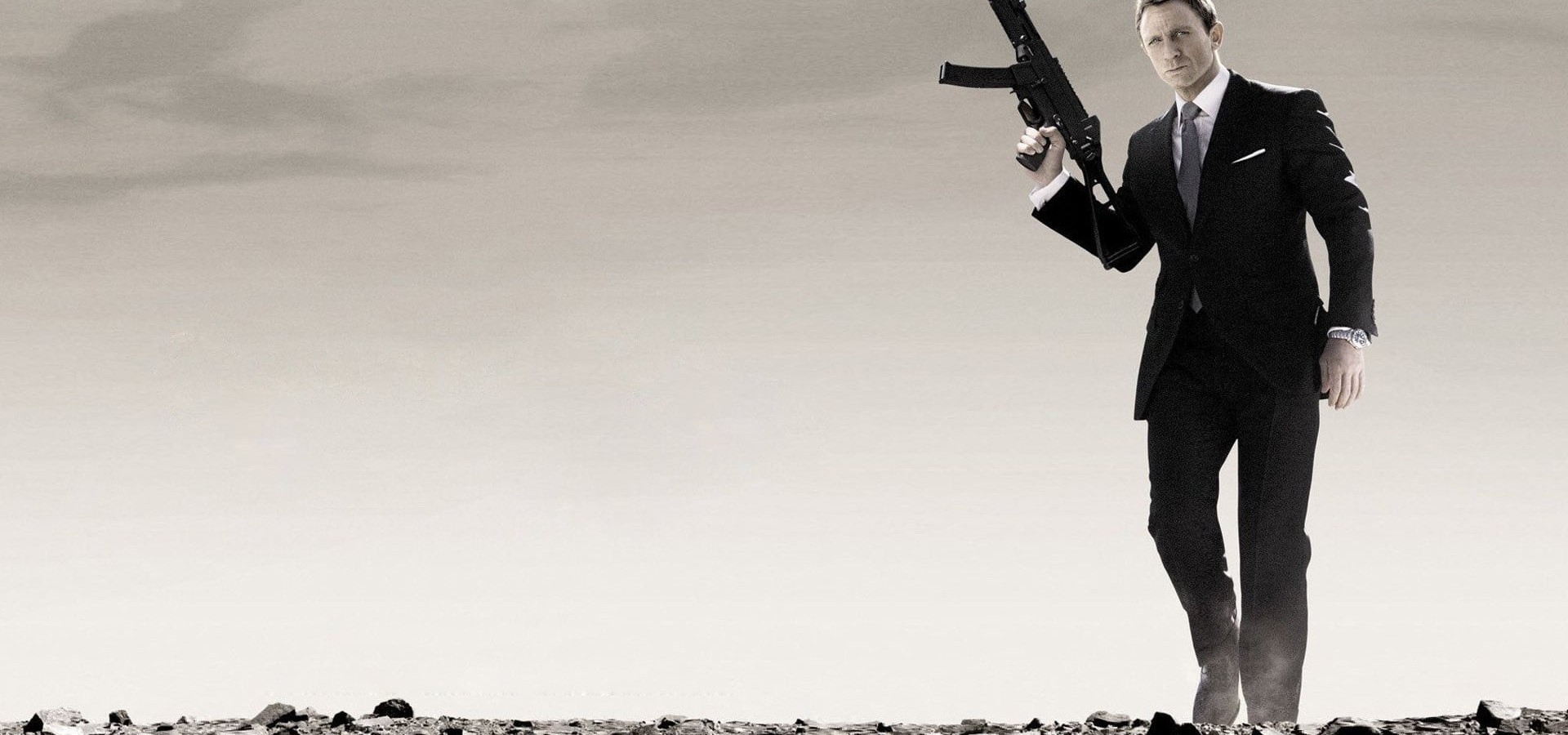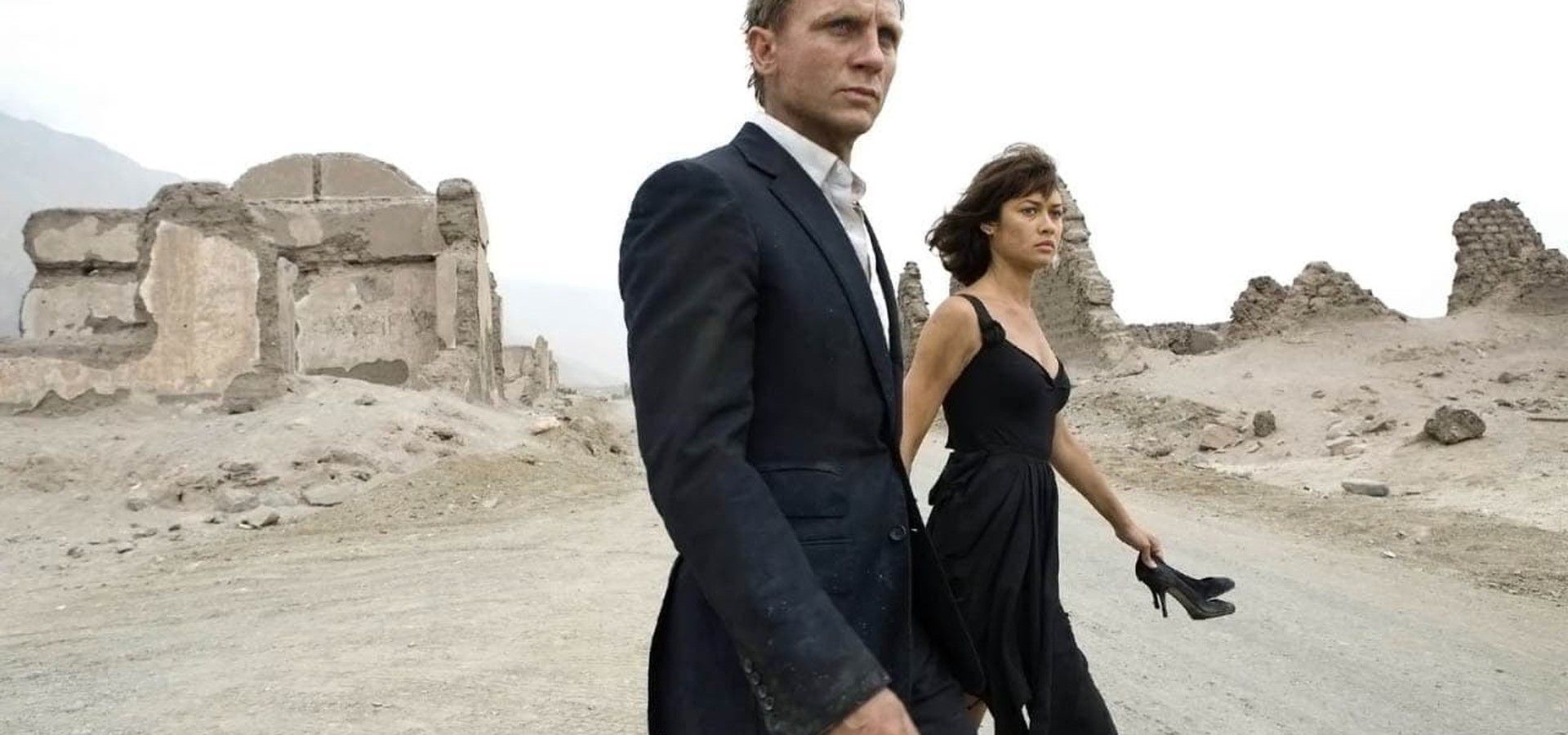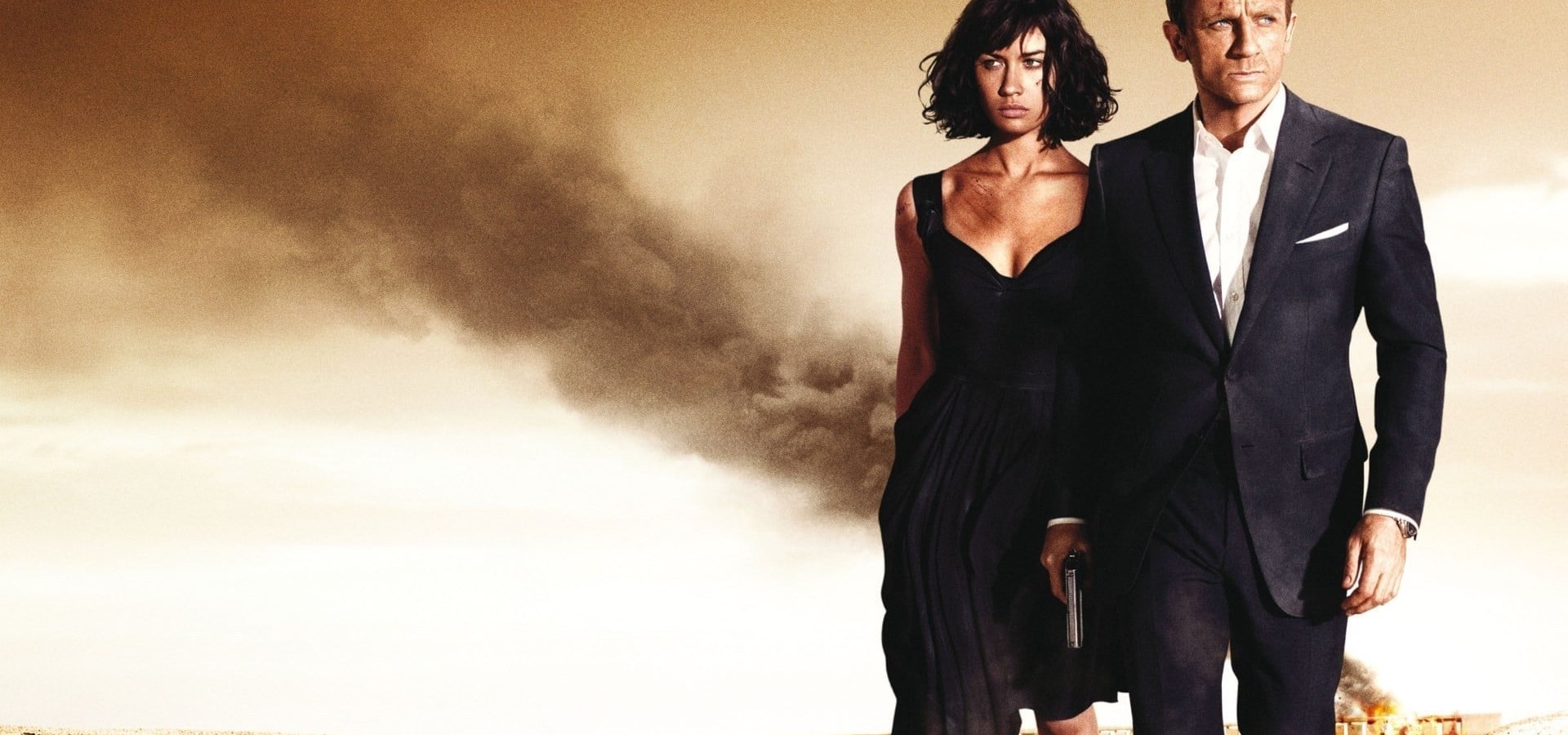 Ranking
Distribution
Technical team
Anna Pinnock
Set Decoration
Dennis Gassner
Production Design
Louise Frogley
Costume Design
Paul Engelen
Makeup Supervisor
Martin Cantwell
Sound Designer
Eithné Fennel
Makeup & Hair
Adam Aldridge
Special Effects Technician
James Boyle
Sound Designer
Debbie McWilliams
Casting
Barbara Broccoli
Producer
Anthony Waye
Executive Producer
David Worley
Camera Operator
Clive Mackey
Focus Puller
Peter Burgis
Foley Artist
Eddy Joseph
Supervising Sound Editor
Roberto Schaefer
Director of Photography
Jack White
Theme Song Performance
Fergus Clegg
Assistant Set Decoration
James Harrison
Sound Effects Editor
Callum McDougall
Executive Producer
Chris Lowe
Supervising Art Director
Alessandra Querzola
Assistant Set Decoration
Stefano Maria Mioni
Stunts
Stefano Maria Mioni
Stunt Driver
Linda DeVetta
Makeup & Hair
Paul Inglis
Art Direction
Lindsay Pugh
Costume Supervisor
Marco Rubeo
Art Direction
Gregg Wilson
Associate Producer
Michael G. Wilson
Producer
Renate Seefeldt
Production Accountant
Alicia Keys
Theme Song Performance
Sophie Phillips
Assistant Set Decoration
Chris Munro
Production Sound Mixer
Patrick Folco
Stunt Driver
James Foster
Art Direction
Franco Ragusa
Special Effects Technician
Patty Boyd
Visual Effects Coordinator
Peter Field
Camera Operator
Sophie Newman
Assistant Set Decoration
Dean Clegg
Assistant Art Director
Neal Callow
Standby Art Director
Mike Stallion
Art Direction
Mark Harris
Art Direction
George Richmond
Steadicam Operator
Robert Palmer
Focus Puller
Bertie Spiegelberg
Assistant Production Coordinator
Chris Corbould
Special Effects Coordinator
Simon Jayes
Camera Operator
Daniel May
Pre-Visualization Supervisor
Jon Thum
Visual Effects Supervisor
Alessandro Novelli
Stunts
Jeppe N. Christensen
Visual Effects Producer
Jo Ann Cordero Belen
Compositor
Johnny Lockwood
Visual Effects Supervisor
Manuel Guijoza
Production Assistant
Clay Donahue Fontenot
Stunts
Gavin Fitch
Assistant Art Director
Will Humphris
Clapper Loader
Peter James
Standby Art Director
Barry Gibbs
Property Master
Catherine Haugh
Construction Coordinator
Terry Royce
Dressing Prop
Mark Curtis
Compositing Supervisor
Philip Jenkins
Sound Mix Technician
Greg Baldi
Additional Photography
Simon Trundle
Foley Mixer
Sandra Phillips
Assistant Art Director
Philip Greenlow
Visual Effects Coordinator
Sandy Buchanan
ADR Recordist
Angela Barson
Visual Effects Supervisor
Craig Hosking
Aerial Coordinator
Bobby Holland Hanton
Stunts
Bobby Holland Hanton
Stunt Double
Rowley Irlam
Stunt Coordinator
Frank Buono
Camera Operator
John Gamble
First Assistant Camera
Graham Hall
Camera Operator
Joaquin Morales
Assistant Property Master
Doug Cooper
Sound Mix Technician
Steve Street
Visual Effects Supervisor
Mark Taylor
Sound Re-Recording Mixer
Susie Allnutt
Still Photographer
Mike Prestwood Smith
Sound Re-Recording Mixer
Gary Powell
Stunt Coordinator
Shaun O'Dell
Second Unit Director of Photography
Michael Nelson
Ultimate Arm Operator
George Peters
Camera Operator
Josh Bleibtreu
Director of Photography
Alessandro Borgese
Stunts
Peter Robertson
Camera Operator
David B. Nowell
Aerial Director of Photography
John Marzano
Aerial Director of Photography
Jonathan 'Chunky' Richmond
Focus Puller
Colin Ritchie
Dialogue Editor
Oliver Tarney
Sound Effects Editor
Simon Chase
Dialogue Editor
Simon Chase
Supervising ADR Editor
Ron Goodman
Aerial Camera
Tom Harrison-Read
First Assistant Editor
Rob Farris
Digital Intermediate Producer
Ronnie Phillips
Rigging Gaffer
Alessio Bramucci
Electrician
Kevin Tod Haug
Visual Effects Designer
Naomi Donne
Makeup & Hair
Chas Bain
Camera Operator
Chris Sturmer
Dolby Consultant
Nic Hatch
Pre-Visualization Supervisor
Robert Binnall
Camera Operator
Des Carey
Digital Intermediate Producer
Patrick Malone
Digital Intermediate
Craig Frosty Silva
Stunts
Anna Skrein
Art Department Coordinator
Tim Pounds-Cornish
Visual Effects Production Manager
Mark Milsome
Camera Operator
Brendan Handscombe
Wardrobe Master
Derek Burgess
Visual Effects Editor
Alex Joseph
Foley Supervisor
Karen Ballard
Still Photographer
Laurent Treherne
Digital Intermediate
Erin McGookin
Digital Intermediate Producer
Peter Olliff
Visual Effects Editor
Chris Coupland
Visual Effects Editor
Standish Millennas
Visual Effects Producer
Zoe Morgan
Script Supervisor
Oliver Loncraine
Focus Puller
Mark Moriarty
Camera Operator
Stefan Stankowski
Camera Operator
Victoria Mowlam
Visual Effects Producer
Daniel Nichols
Camera Operator
Clare Ramsey
Makeup Artist
Gunnar Hansen
Compositing Supervisor
Mike Dargan
Makeup Artist
Martin Asbury
Storyboard Artist
Stafford Lawrence
Animation
Nikki Clapp
Script Supervisor
Ciara McArdle
Set Costumer
Péter Závorszky
Visual Effects Producer
Russell Kennedy
Clapper Loader
Steve Bohan
Construction Manager
Charles Bodycomb
Supervising Armorer
Ross Johnson
Visual Effects Coordinator
Martin Corbett
First Assistant Editor
Don Steinberg
First Assistant Camera
Joss Skottowe
Supervising Armorer
Leslie Lerman
Visual Effects Producer
Alex Wuttke
Visual Effects Supervisor
Aysha Madina
Lead Animator
Harry Bowers
Focus Puller
Patrick Zentis
Compositor
Sebastian Barraclough
Clapper Loader
Filippo Porcari
Sound Mixer
Marc Wolff
Aerial Coordinator
Huseyin Caner
Visual Effects Supervisor
Andrea Finch
Makeup & Hair
Marc Atherfold
First Assistant Camera
Jamie Mills
Lighting Technician
Judy Britten
Production Coordinator
Alessandro Checcacci
Sound Re-Recording Mixer
Karla Quintero
Production Assistant
Kevin T. Hahn
CG Supervisor
Domenico Reordino
Painter
Lance Julian
Marine Coordinator
Sandra Guardado
3D Artist
Anna V. James
Visual Effects Coordinator
Hannah Godwin
Travel Coordinator
Katherine McCormack
Unit Publicist
Stefano Corridori
Special Effects Technician
Andy Aitken
Special Effects Technician
Pauline Hume
Title Designer
Martin Ivanov
Stunt Double
Robin Gonsalves
First Assistant Editor
Peter N. Brown
Supervising Carpenter
Paul Kelly
Lighting Technician
David Cozens
Focus Puller
Chris Baker
Conceptual Design
Lulu Morgan
Production Coordinator
Chloe Meddings
Makeup Artist
Spencer Murray
Focus Puller
Neil Munro
Lighting Technician
Jason Hunjan
Stunt Driver
Valentina Rossi Stuart
Stunt Driver
Jim Crowther
Best Boy Grip
Simonetta Di Fresco
Production Coordinator
Mark Gilmer
Second Assistant Camera
Peter Casey
Generator Operator
Oscar Deeks
Epk Camera Operator
Louis Seresin
Camera Trainee
Eddie Wolstencroft
Painter
Paolo Sartori
Electrician
Marco Mattei
Production Accountant
Clarissa Newman
Production Coordinator
Darryl Paterson
Assistant Property Master
Arabella Gilbert
Assistant Production Coordinator
Kim Frederiksen
Draughtsman
Mike Woodley
Aerial Coordinator
Massimo Cardajoli
Armorer
Susan Chika Anisiobi
Assistant Accountant
Jerome Fournier
Matte Painter
Lucilla Simbari
Costume Assistant
Tamazin Simmonds
Art Department Coordinator
Ceri Thomas
Assistant Sound Editor
Natalie Lovatt
Visual Effects Coordinator
Steve J. Sanchez
Compositor
Emily Greenwood
Online Editor
Jason Reed
Animatronics Designer
Will Morris
Camera Trainee
James Smith
Clapper Loader
Ged Wright
Visual Effects Supervisor
Jenny Hawkins
Assistant Costume Designer
Richard Gregory
Animatronics Designer
Dougie Lankston
Dressing Prop
Chris Clarke
Clapper Loader
Christopher Kilshaw
CG Artist
Nicole Chapman
Set Production Assistant
Danielle Morley
Visual Effects Coordinator
Ingrid Simmonds
Assistant Accountant
Diana Wyand
Wardrobe Assistant
Paul Anthony McGill
Conceptual Illustrator
Shane Harford
Dressing Prop
Jigesh Gajjar
Matchmove Supervisor
Barry May-Leybourne
Health and Safety
Cathal MacIlwaine
Carpenter
John Moolenschot
Carpenter
Nicholas Henderson
Draughtsman
Christopher Young
Painter
Steve Parker
Additional Director of Photography
Derek Gruszeckyj
Camera Operator
Rick James
Camera Trainee
Dean Morris
Clapper Loader
David Mackie
Assistant Sound Editor
David Mackie
Clapper Loader
Sarah Woodward
Clapper Loader
Niall Crawford
Electrician
Scott Ronnow
First Assistant Camera
Tim Dean
Libra Head Technician
Conor Finlay
Lighting Technician
J.E. Smith
Second Assistant Camera
Neil Flaherty
Second Assistant Camera
Mike Barnett
Ultimate Arm Operator
Marilyn Gonzalez
Makeup & Hair
Yossi Appelbaum
ADR Recordist
Murat Elgün
ADR Recordist
Christian Joyce
Production Sound Mixer
Ingmar Herrera
Sound Recordist
Valeria Perucci
Costume Assistant
Alun Knott
Camera Operator
Victor Wade
Compositing Supervisor
Rafal Kaniewski
Compositor
Sangita Mistry
Compositor
Ana Sofia Mestre de Almeida Pereira
Compositor
Tony Abejuro
Matchmove Supervisor
Szvák Antal
Visual Effects Coordinator
Karen Clarke
Visual Effects Coordinator
Ben Aghdami
Visual Effects Production Assistant
Anita M. Patel
Post Production Coordinator
Phil Ashton
Animatronics Designer
Tim Jordan
Animatronics Designer
Andy Simm
Animatronics Designer
Nick Bonathan
Animatronics Designer
Scott Armstrong
Special Effects Technician
John Arnitt
Special Effects Technician
Steve Benelisha
Special Effects Technician
Paul Bentman
Special Effects Technician
Gordon Cave
Special Effects Technician
Nic Curragh
Special Effects Technician
Dan Homewood
Special Effects Technician
Alex MacBride
Special Effects Technician
Steve Mansfield
Special Effects Technician
Bruce Mayhew
Special Effects Technician
Tony Smart
Special Effects Technician
Barry White
Special Effects Technician
Andrew Warner
Special Effects Technician
James Murrell
Special Effects Technician
Matthew Johnson
Special Effects Technician
Michael Fox
Special Effects Technician
Steve Barry
Assistant Accountant
Claire L. Kenny
Assistant Accountant
Alastair McNeil
Assistant Accountant
Joyce Noakes
Assistant Accountant
Sarah Stiff
Assistant Accountant
Bernardo Galli
Assistant Accountant
Peter Ziak
Assistant Accountant
Tomas Kreisl
Assistant Accountant
Florian Salzmann
Assistant Production Coordinator
Giorgia Passarelli
Assistant Production Manager
Peggy Plessas
Dialogue Coach
James McGrady
Floor Runner
Regina Enguídanos-Coronel
Legal Services
J.C. Merrill
Marine Coordinator
Gianni Carpentieri
Production Accountant
Francesco Antoni
Production Assistant
Tom Asquith
Production Assistant
Roman Diaz
Production Assistant
David Giammarco
Production Assistant
Ben Haigh
Production Assistant
Daniel Henriquez-Ilic
Production Assistant
Claudia Hofstetter
Production Assistant
Iris Huezo
Production Assistant
Benjamin Maier
Production Assistant
Declan O'Brien
Production Assistant
Anna-Katharina Schneider
Production Assistant
Fernando Silva
Production Assistant
Rodrigo Yeye Diaz
Production Assistant
Fernanda Gutierrez
Production Assistant
Michael Riedacher
Production Assistant
Beatriz Garcia
Production Assistant
Mario Gotti
Production Assistant
Stefania Antonini
Production Coordinator
Laura Veytia
Production Coordinator
Philie Naughten
Production Coordinator
Sylvia Kube
Production Coordinator
Claudia Cimmino
Production Coordinator
Raisa De Alba
Production Coordinator
Keleigh Slaight
Production Coordinator
David Pope
Production Executive
Charlie Salmon
Production Runner
Margherita Di Tullio
Production Secretary
Julian David Birri
Production Supervisor
Alissa Sullivan Haggis
Researcher
Oliver Dance
Set Production Assistant
Stefanie Nieto Cruz
Set Production Assistant
Francesco Bonomo
Set Production Assistant
Icaro Lorenzoni
Set Production Assistant
Daniele Fabrizi
Set Production Assistant
Nicola Short
Stunt Coordinator