I Dislike This
Un-Dislike
Dislike
R+
93 min
2019
en
528100
tt6436726-509585
id528100
Information of the

Movie

7500 2019
by Patrick Vollrath
7500, Movie full premiere on 2019 directed by Patrick Vollrath and interpreted by Joseph Gordon-Levitt, Omid Memar, Aylin Tezel, Carlo Kitzlinger, Murathan Muslu, Aurélie Thépaut, ... and produced by Augenschein Filmproduktion, Novotny & Novotny Filmproduktion, FilmNation Entertainment, Endeavor Content, Südwestrundfunk, Bayerischer Rundfunk, ARTE, ...
Sipnosis
The Movie 7500 goes from what When terrorists try to seize control of a Berlin-Paris flight, a soft-spoken young American co-pilot struggles to save the lives of the passengers and crew while forging a surprising connection with one of the hijackers.
Where can we see, buy or rent the Movie 7500 from the director Patrick Vollrath,?
7500 , Movie from the director Patrick Vollrath, with a duration of 93 minutes you can ver online in Amazon Prime Video .
production
Augenschein Filmproduktion
DE
Novotny & Novotny Filmproduktion
AT
FilmNation Entertainment
US
Südwestrundfunk
DE
Bayerischer Rundfunk
DE
ARTE
DE
Trailers 7500 2019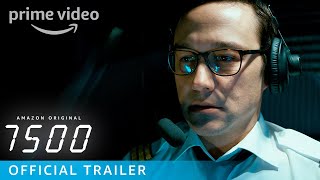 7500 – Official Trailer | Prime Video youtube