Beetlejuice (1988)
Released
I Dislike This
Un-Dislike
Dislike
PG+
92 min
1988
en
39601
1383-4011
id39601
Information of the

Movie

Beetlejuice 1988
by Tim Burton
Beetlejuice, Movie full premiere on 1988 directed by Tim Burton and interpreted by Michael Keaton, Geena Davis, Alec Baldwin, Winona Ryder, Catherine O'Hara, Jeffrey Jones, ... and produced by Geffen Pictures, Warner Bros. Pictures, ...
Sipnosis
The Movie Beetlejuice goes from what Thanks to an untimely demise via drowning, a young couple end up as poltergeists in their New England farmhouse, where they fail to meet the challenge of scaring away the insufferable new owners, who want to make drastic changes.
In desperation, the undead newlyweds turn to an expert frightmeister, but he's got a diabolical agenda of his own.
Where can we see, buy or rent the Movie Beetlejuice from the director Tim Burton,?
Beetlejuice , Movie from the director Tim Burton, con una recaudación de 73,326,666 of $ with a duration of 92 minutes you can comprar in AMC on Demand .
production
Warner Bros. Pictures
US
Trailers beetlejuice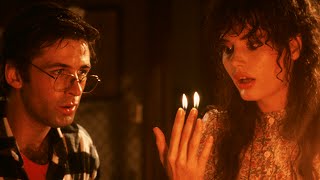 Beetlejuice - Original Theatrical Trailer youtube