Knives Out (2019)
Released
I Dislike This
Un-Dislike
Dislike
PG-13+
131 min
2019
en
432043
908866-546554
id432043
Information of the

Movie

Knives Out 2019
by Rian Johnson
Knives Out, Movie full premiere on 2019 directed by Rian Johnson and interpreted by Daniel Craig, Chris Evans, Ana de Armas, Jamie Lee Curtis, Michael Shannon, Don Johnson, ... and produced by Lionsgate, MRC, T-Street Productions, ...
Sipnosis
The Movie Knives Out goes from what When renowned crime novelist Harlan Thrombey is found dead at his estate just after his 85th birthday, the inquisitive and debonair Detective Benoit Blanc is mysteriously enlisted to investigate.
From Harlan's dysfunctional family to his devoted staff, Blanc sifts through a web of red herrings and self-serving lies to uncover the truth behind Harlan's untimely death.
Where can we see, buy or rent the Movie Knives Out from the director Rian Johnson,?
Knives Out , Movie from the director Rian Johnson, con una recaudación de 308,901,585 of $ with a duration of 130 minutes you can alquilar in Microsoft Store .
production
Lionsgate
US
MRC
US
Trailers knives out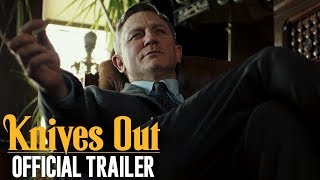 Knives Out (2019 Movie) Official Trailer — Daniel Craig, Chris Evans, Jamie Lee Curtis youtube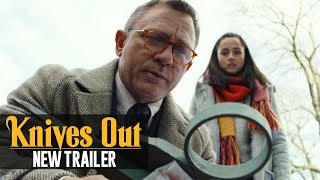 Knives Out (2019) New Trailer – Daniel Craig, Chris Evans, Ana de Armas youtube