Uncut Gems (2019)
Released
I Dislike This
Un-Dislike
Dislike
R+
136 min
2019
en
366227
2954320-473033
id366227
Information of the

Movie

Uncut Gems 2019
by Benny Safdie
Uncut Gems, Movie full premiere on 2019 directed by Josh SafdieBenny Safdie and interpreted by Adam Sandler, Julia Fox, Lakeith Stanfield, Idina Menzel, Kevin Garnett, Judd Hirsch, ... and produced by Sikelia Productions, Elara Pictures, Scott Rudin Productions, IAC Films, A24, ...
Sipnosis
The Movie Uncut Gems goes from what A charismatic New York City jeweler always on the lookout for the next big score makes a series of high-stakes bets that could lead to the windfall of a lifetime.
Howard must perform a precarious high-wire act, balancing business, family, and encroaching adversaries on all sides in his relentless pursuit of the ultimate win.
Where can we see, buy or rent the Movie Uncut Gems from the director Josh SafdieBenny Safdie,?
Uncut Gems , Movie from the director Josh SafdieBenny Safdie, con una recaudación de 50,020,902 of $ with a duration of 130 minutes you can comprar in Amazon Video .
production
Elara Pictures
Scott Rudin Productions
US
A24
US
Trailers uncut gems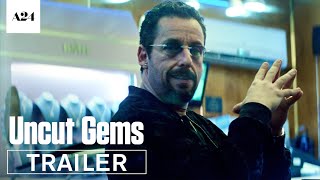 Uncut Gems | Official Trailer HD | A24 youtube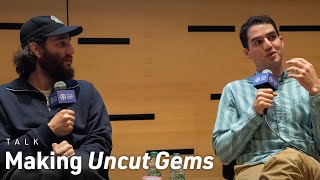 Making Uncut Gems with Josh & Benny Safdie and Crew | NYFF57 youtube