I Dislike This
Un-Dislike
Dislike
R+
163 min
2009
en
145677
1054338820-13183
id145677
Information of the

Movie

Watchmen 2009
by Zack Snyder
Watchmen, Movie full premiere on 2009 directed by Zack Snyder and interpreted by Jackie Earle Haley, Patrick Wilson, Jeffrey Dean Morgan, Billy Crudup, Matthew Goode, Malin Åkerman, ... and produced by Paramount, DC Comics, Lawrence Gordon Productions, Legendary Entertainment, Warner Bros. Pictures, Cruel & Unusual Films, DC Entertainment, ...
Sipnosis
The Movie Watchmen goes from what In a gritty and alternate 1985 the glory days of costumed vigilantes have been brought to a close by a government crackdown, but after one of the masked veterans is brutally murdered, an investigation into the killer is initiated.
The reunited heroes set out to prevent their own destruction, but in doing so uncover a sinister plot that puts all of humanity in grave danger.
Where can we see, buy or rent the Movie Watchmen from the director Zack Snyder,?
Watchmen , Movie from the director Zack Snyder, con una recaudación de 185,258,983 of $ with a duration of 163 minutes you can alquilar in AMC on Demand .
production
Paramount
US
DC Comics
US
Lawrence Gordon Productions
Legendary Entertainment
US
Warner Bros. Pictures
US
Cruel & Unusual Films
US
DC Entertainment
US
Trailers watchmen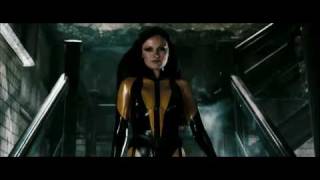 Watchmen (2009) - Teaser Trailer [HD] youtube