Zombieland (2009)
Released
I Dislike This
Un-Dislike
Dislike
R+
88 min
2009
en
145203
tt1156398-19908
id145203
Information of the

Movie

Zombieland 2009
by Ruben Fleischer
Zombieland, Movie full premiere on 2009 directed by Ruben Fleischer and interpreted by Jesse Eisenberg, Woody Harrelson, Emma Stone, Abigail Breslin, Amber Heard, Bill Murray, ... and produced by Pariah, Columbia Pictures, Relativity Media, Sony Pictures, ...
Sipnosis
The Movie Zombieland goes from what Columbus has made a habit of running from what scares him.
Tallahassee doesn't have fears.
If he did, he'd kick their ever-living ass.
In a world overrun by zombies, these two are perfectly evolved survivors.
But now, they're about to stare down the most terrifying prospect of all: each other.
Where can we see, buy or rent the Movie Zombieland from the director Ruben Fleischer,?
Zombieland , Movie from the director Ruben Fleischer, con una recaudación de 102,391,540 of $ with a duration of 87 minutes you can ver online in Netflix .
production
Columbia Pictures
US
Relativity Media
US
Sony Pictures
US
Trailers zombieland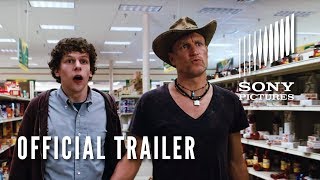 Zombieland Official Trailer #1 youtube