Zombieland (2009)
Released
I Dislike This
Un-Dislike
Dislike
R+
88 min
2009
en
145203
MV002510450000-19908
id145203
Information of the

Película

Zombieland 2009
de Ruben Fleischer
Zombieland, Película completa de estreno en 2009 dirigida por Ruben Fleischer e interpretada por Jesse Eisenberg, Woody Harrelson, Emma Stone, Abigail Breslin, Amber Heard, Bill Murray, ... y producida por Pariah, Columbia Pictures, Relativity Media, Sony Pictures, ...
Sipnosis
La Película Zombieland va de que Columbus has made a habit of running from what scares him.
Tallahassee doesn't have fears.
If he did, he'd kick their ever-living ass.
In a world overrun by zombies, these two are perfectly evolved survivors.
But now, they're about to stare down the most terrifying prospect of all: each other.
¿Dónde podemos ver, comprar o alquilar la Película Zombieland del director Ruben Fleischer,?
Zombieland , Película del director Ruben Fleischer, con una recaudación de 102,391,540 de $ con una duración de 87 minutos que puedes en Fandango .
producción
Columbia Pictures
US
Relativity Media
US
Sony Pictures
US
Trailers zombieland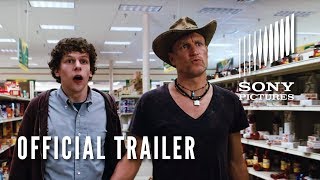 Zombieland Official Trailer #1 youtube