It's Always Sunny in Philadelphia (2005)
Returning Series
I Dislike This
Un-Dislike
Dislike
TV-MA+
151 episodios
14 temporadas
de 2005 a 2019
It's Always Sunny in Philadelphia
en
21546
2710
SH007629560000
id21546
Information of the

TV show

It's Always Sunny in Philadelphia 2005
by Rob McElhenney
It's Always Sunny in Philadelphia, TV show full premiere on 2005 directed by Rob McElhenney and interpreted by Charlie Day, Glenn Howerton, Rob McElhenney, Kaitlin Olson, Danny DeVito, ... and produced by 3 Arts Entertainment, Bluebush Productions, FX Productions, ...
Sipnosis
The TV show It's Always Sunny in Philadelphia goes from what Four egocentric friends who run a neighborhood Irish pub in Philadelphia try to find their way through the adult world of work and relationships.
Unfortunately, their warped views and precarious judgments often lead them to trouble, creating a myriad of uncomfortable situations that usually only get worse before they get better.
14 SEASONS
Specials 2007

04-09-2007

Season 1 2005

04-08-2005

Season 2 2006

29-06-2006

Season 3 2007

13-09-2007

Season 4 2008

18-09-2008

Season 5 2009

17-09-2009

Season 6 2010

16-09-2010

Season 7 2011

15-09-2011

Season 8 2012

11-10-2012

Season 9 2013

03-09-2013

Season 10 2015

13-01-2015

Season 11 2016

05-01-2016

Season 12 2017

04-01-2017

Season 13 2018

05-09-2018

Season 14 2019

25-09-2019
Where can we see, buy or rent the TV show It's Always Sunny in Philadelphia , creada por Rob McElhenney,?
It's Always Sunny in Philadelphia , TV show , creada por Rob McElhenney, with a duration of 22 minutes you can ver online in Sling TV .
Last available episode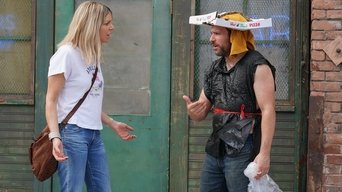 The Gang Solves Global Warming
Date: 06-11-2019
As a record-breaking heat wave overtakes Philly, the Gang plans to profit from global warming by pumping up the A/C so people will congregate at Paddy's and save energy at home.
Season: 14
Episode: 7
Next episode
NO IMAGE
Paddy's Has a Jumper
Date: 13-11-2019
Trapped inside Paddy's with a suicide jumper on the roof, the Gang wonders if they should bother intervening with an algorithm of their own - Could he, would he, should we? the second half hour, Dennis and Charlie stand guard at the entrance to their laser tag base waiting to ambush the legendary "Big Mo," but Dennis begins to ponder the reasons they play laser tag and if their pursuit of a victory is worth their effort.
Season: 14
Episode: 8
production
3 Arts Entertainment
US
FX Productions
US
networks
FX
US

FXX
US
video
Trailers its always sunny in philadelphia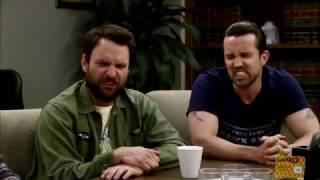 Latest Season 12 Trailer - Red Band - It's Always Sunny in Philadelphia youtube