Superstore (2015)
Returning Series
I Dislike This
Un-Dislike
Dislike
TV-14+
97 episodios
6 temporadas
de 2015 a 2020
en
38412
62649
tt4477976
id38412
Information of the

Serie de TV

Superstore 2015
de Justin Spitzer
Superstore, serie de TV completa de estreno en 2015 dirigida por Justin Spitzer e interpretada por America Ferrera, Ben Feldman, Colton Dunn, Lauren Ash, Mark McKinney, Nichole Bloom, ... y producida por Universal Television, The District, ...
Sipnosis
La serie de TV Superstore va de que A hilarious workplace comedy about a unique family of employees at a super-sized mega store.
From the bright-eyed newbies and the seen-it-all veterans to the clueless summer hires and the in-it-for-life managers, together they hilariously tackle the day-to-day grind of rabid bargain hunters, riot-causing sales and nap-worthy training sessions.
6 TEMPORADAS
Season 1 2015

30-11-2015

Season 2 2016

19-08-2016

Season 3 2017

28-09-2017

Season 4 2018

04-10-2018

Season 5 2019

26-09-2019

Series 6 2020

23-03-2020
¿Dónde podemos ver, comprar o alquilar la serie de TV Superstore , creada por Justin Spitzer,?
Superstore , Serie de TV , creada por Justin Spitzer, con una duración de 22 minutos que puedes ver online en DIRECTV .
Último episodio disponible
Playdate
Fecha: 19-03-2020
When Amy has to bring her baby to the store, she grows frustrated with people's criticisms of her parenting and Glenn enlists Jerusha to help. Garrett helps Dina plan her first date with her boyfriend. Sandra and Cheyenne hatch a conspiracy theory.
Temporada: 5
Episodio: 18
Próximo episodio
NO IMAGE
Carol's Back
Fecha: 26-03-2020
When Carol returns to the store post-suspension, Amy struggles with employees who refuse to work with her. Garrett and Mateo take advantage of the gig economy. Jonah tries to convince Raise the Wage protesters that he's one of them.
Temporada: 5
Episodio: 19
producción
Universal Television
US
networks
NBC
US
Trailers superstore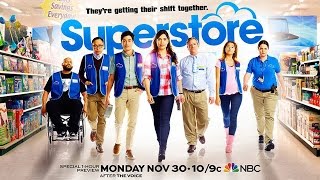 Superstore (NBC) Trailer HD youtube